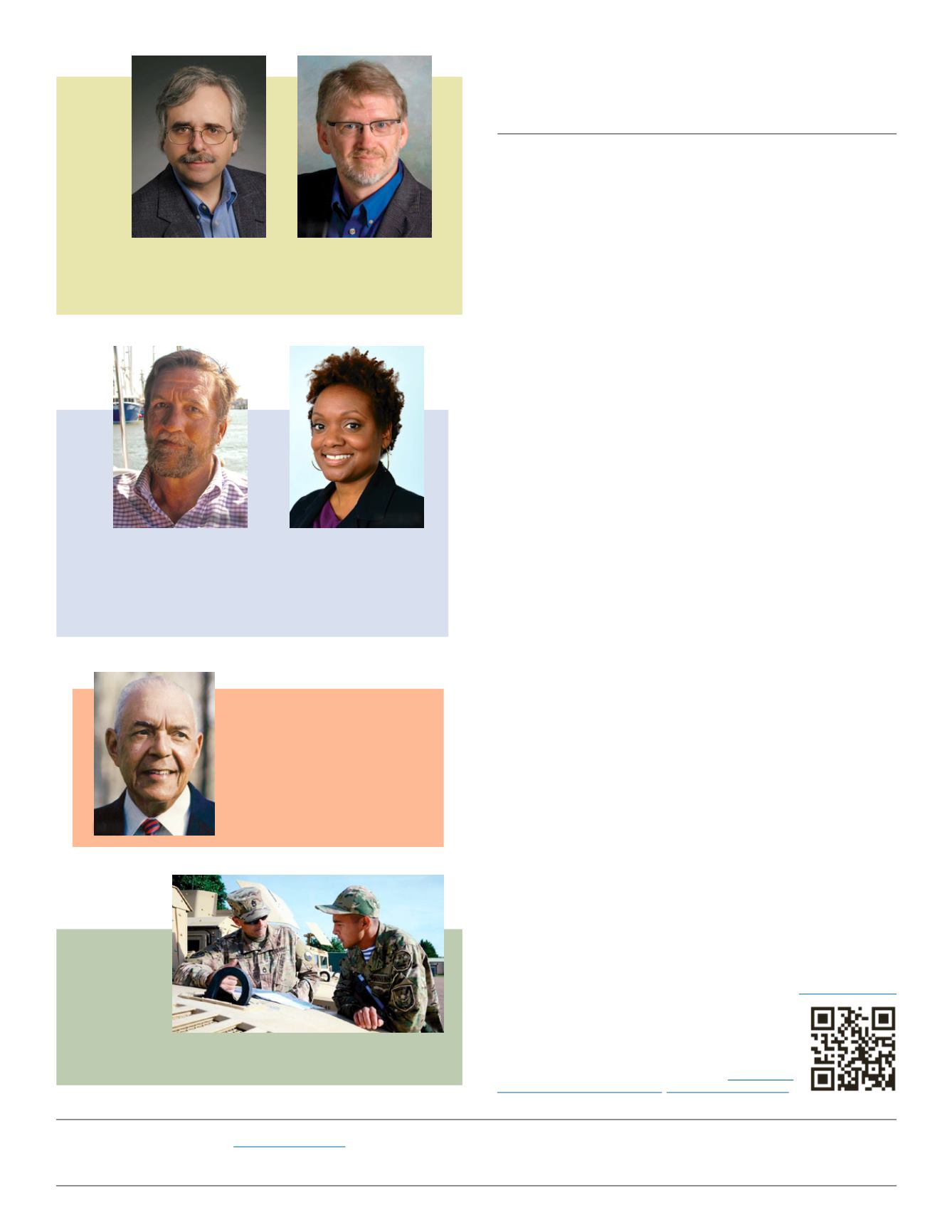 V
irginia
C
apitol
C
onnections
, W
inter
2017
3
4
Possible Republican Renaissance?
5
When Virginia was first blue…
6
Pursuing Bi-Partisan Solutions to Enhance Behavioral Health
7
Dr. William "Fergie" Reid:
A Resilient Force in Virginia Civil Rights
9
Virginia's Veterans Care Center Provide Top-Notch Care To
Veterans: New facilities to be built in Fauquier County and
the City of Virginia Beach will complement existing facilities
in Richmond and Roanoke
10
Virginia National Guard meets challenges of busy 2016
13
Virginia Tourism Corporation's Development Team
Facilitating Tourism Business and Product Development
across the Commonwealth
14
Another Successful Virginia Economic Summit
and a Visit from Gubernatorial Hopefuls
15
From Guidance Counseling to School Counseling:
What's Best for Students? Counselor Student 250:1 Ratios
16
The Photography of Wanda Judd
18
Families as a Resource for School Problems
19
Just Saying
20
Standing Rock: A Personal Reflection
22
Kaine
22
One Foot Out The Door
23
The PoorMans Dinner: Southwest Virginia's Big Event
24
Play along the Border
25
Go Mobile with the Virginia Capitol Connections App
26
In Memoriam
26
Charles J. Colgan
27
The Honorable Chuck Colgan: Excerpts from an interview
published in the Spring 2012 issue of
Virginia Capitol
Connections Quarterly Magazine
28
Alan Mayer
29
Policy Makers of the Year
30
Association and Business Directory
Winter 2017
Volume 23 Number 1
•
Editor
–Kristen Bailey-Hardy •
Assistant Editor
–Hayley Allison •
Publisher
–David Bailey •
Art Director
–John Sours •
School Distribution
–
Kristen Bailey-Hardy •
Advertising
–
Ads@CapitolSquare.com
•
Printer
–Wordsprint •
Virginia Capitol Connections Quarterly Magazine
(ISSN 1076-4577) is published by:
Virginia Capitol Connections • 1108 East Main Street • Suite 1200 • Richmond, Virginia 23219 • (804) 643-5554 • Copyright 2017, Virginia Capitol Connections, Inc. All rights
reserved. The views expressed in the articles of
Virginia Capitol Connections Quarterly Magazine
, a non-partisan publication, are not necessarily those of the editors or publisher.
On the Cover
In the southwestern corner of Capitol Square, at the intersection of Ninth and
Franklin Streets, the red brick Bell Tower has stood since 1824. It was once
used for a guard house and the bell warned of fires. During the Civil War, the
bell sounded when Federal troops approached the city. More recently, it was an
office for Lt. Gov. Charles S. Robb (1978-82), and the Capitol Square Preservation
Council. It now serves as a Visitor Center for Virginia Touris
m
www.virginia.org/
listings/VisitorInformationCenters/BellTower/
.
www.vacapitol.org/belltower.htm
Cover photo by
Wanda Judd
C O N T E N T S
VIRGINIA CAPITOL CONNECTIONS QUARTERLY MAGAZINE
On The Web
www.vccqm.org
Force in
Civil Rights
page 7
reid
Republican Renaissance?
page 4
Farnsworth
hanna
Blue
Virginia
page 5
Watkinson
Behavioral
Health
page 6
Wicker
Veterans & Guard
page 9