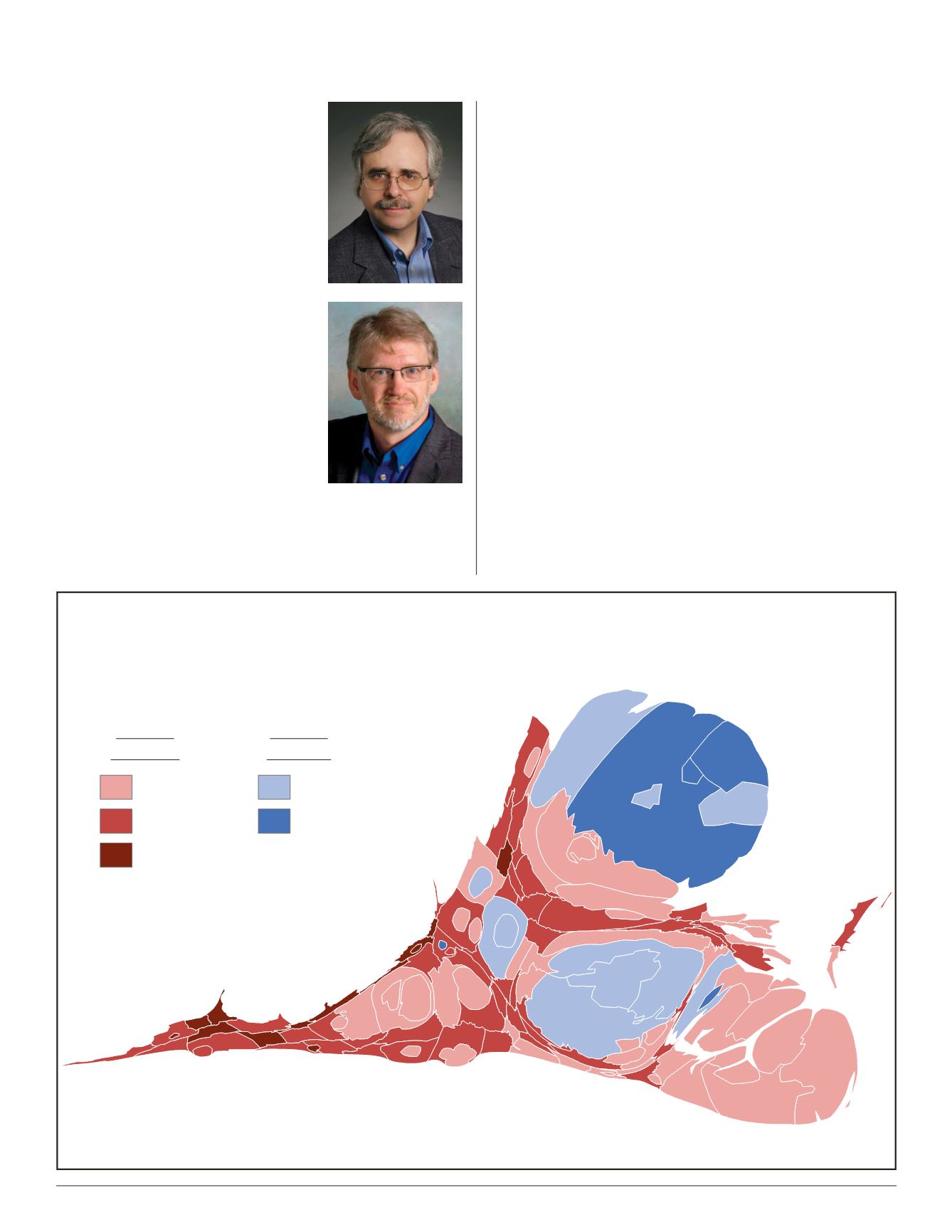 V
irginia
C
apitol
C
onnections
, W
inter
2017
4
Within Democrat Hillary Clinton's
victory in swing-state Virginia last
month lies the opportunity for a possible
Republican renaissance in statewide
elections next November.
Turning first to the bad news for Virginia
Republicans, the party's deepest troubles lie in
the state's two biggest electoral jurisdictions,
which are getting more Democratic every
election cycle. More than 550,000 votes
were cast in November in Fairfax County,
the state's most populous jurisdiction, and
Republican presidential nominee Donald
Trump only received 29 percent of them.
Four years earlier, Mitt Romney received
39.5 percent of the vote in Fairfax.
Clinton also won Loudoun County by a
larger margin than Barack Obama did four
years ago. Loudoun, which ranked second
among Virginia jurisdictions this year
with more than 182,000 votes cast, went
for Clinton by a 55 percent to 38 percent
margin. Four years ago, Democrats won the
county by a 52-47 margin.
The relatively bad news continued for Republicans in
Chesterfield, long the state's largest reliably Republican county.
Trump won Chesterfield, which ranked third in the total number of
votes casts, but only by two percentage points, compared to an eight
percentage point margin for Romney four years ago.
Virginia Beach, which ranked fourth in number of votes cast,
offered a bit better news for the GOP. Trump secured a four point
advantage in the city, a notably stronger performance than that of
his Republican predecessor, who ran two points behind Obama in
Virginia Beach in 2012.
The greatest declines for the Democrats, though, were found in
Southside and Southwest Virginia. The attached cartogram, which
adjusts the sizes of Virginia counties and cities to match the number
of votes cast, marks the greatest declines in Democratic vote share
with deep red, and the greatest increases in the percentage support
for Clinton with dark blue. Most of the counties along Interstate 81
and along the North Carolina border are marked dark red, signifying
the greatest declines for Clinton when compared to the percentage
Obama received four years ago.
These rural counties do not have a lot of voters, so appear much
smaller on this map when their size is adjusted to account for the
number of votes cast. (People vote, acres don't.)
Given their small electorates, there is limited upside opportunity
for the GOP in these areas. Further, these dark red counties already
offer strong support for the party, even for Trump, who paid little
attention to the socially conservative Republicanism that dominates
these counties. If Trump's twice-divorced, bawdy, glitzy billionaire
Fifth Avenue Manhattan lifestyle didn't drive away Christian
conservatives, then nothing will.
Looking ahead, the Republican Party would likely maximize
its chances of success by nominating a less divisive candidate
than Trump who nevertheless follows his lead in one crucial area:
de-emphasizing a conservative social policy agenda. That way,
Source: Electoral data are from the Virginia State Board of Elections website
(www.sbe.virginia.gov/cms/Election_Information/Election_Results/Index.html).
Map by Stephen P. Hanna, UMW Geography Department.
Change in Support for Democratic
Presidential Candidates, 2012-2016
5 or less
6 to 10 10 or more
5 or less
6 to 10
Percent
Decrease
Percent
Increase
Counties and independent cities are scaled by the
number of votes cast. For example, Fairfax County
(550,000 votes) is three times the size of Loudoun
County(182,000 votes).
Possible Republican Renaissance?
By Stephen J. Farnsworth and Stephen Hanna
Farnsworth
hanna
Continued on next page