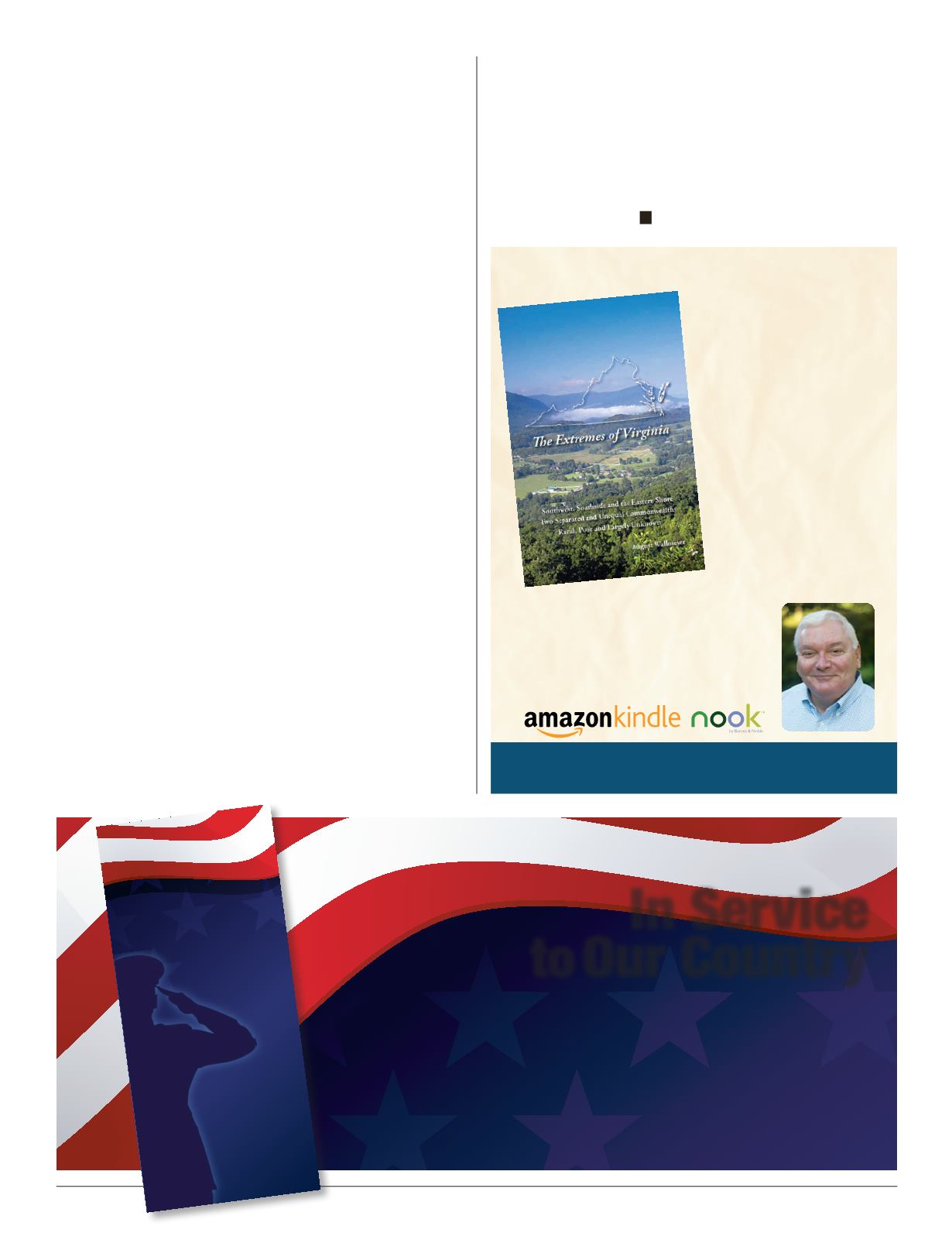 V
irginia
C
apitol
C
onnections
, W
inter
2017
12
addition to their role assisting the Virginia National Guard, they also
volunteer their time to assist in their communities.
"Our VDF troopers are great volunteers, and we have them
integrated into all of our domestic operations," Williams said. "They
bring a wealth of civilian, military and first responder experience
with them to their jobs, and we would not be able to perform our state
mission so well without them."
As all branches of the military and the civilian sector build on
the cyber capabilities, the Virginia National Guard is leading the way.
The Virginia Air National Guard will stand up one of four new cyber
operations squadrons at Langley Air Force Base, adding to Virginia's
growing cyber capabilities. Soldiers and VDF troopers conducted
more than half a dozen cyber assessments in a state active duty status
for localities across the state to help them strengthen their network's
security.
"Effective cyber defense is critical to our security at the state and
national level, and we are helping led the way in the development of
cyber forces and capabilities,"Williams said. "We were very excited to
be able to put that great expertise to work this year with our first-ever
state active duty cyber assessments, and we look forward to continued
partnerships with Virginia localities and helping them defend their
networks."
The Virginia National Guard traces the history and traditions of
Citizen Soldier and Citizen Airmen service to the founding of the
Jamestown colony and celebrated its 409th birthday at Jamestown
on May 14, 2016. And for the first time in its history, the Virginia
National Guard will have a new facility built specifically to serve as a
headquarters. The 102,000 square foot facility will be built on a 13.6-
acre site in the northern section of Defense Supply Center Richmond,
cost approximately $30 million and construction should be completed
by February 2018. It will provide workspace for the Adjutant General
of Virginia, the Virginia National Guard Joint Staff and Air National
Guard Staff currently located at Mullins Readiness Center in Sandston.
Looking ahead to 2017,Williams identified readiness and growing
the Virginia Guard's force structure as two key strategic objectives.
"We all have the responsibility to ensure that we meet all individual
federal mobilization requirements, including the standards for height
and weight, physical fitness, and military education," Williams
said. "The Army and the Air Force are counting on us to bring our
organizations up to a level that can meet any global requirement, and it
is up to each of us to reach and maintain that standard."
Williams said he would like to see the Guard's force structure
grow by 2,000 Soldiers and 1,000 Airmen.
"I may be biased, but I truly believe that our state is blessed with
the best Soldiers and Airmen in the country," Williams said. "With
that in mind, I plan to advance Virginia as a key player in the National
Guard. Our strategic plan includes setting the conditions to grow force
structure inVirginia. Achieving this goal will take time and everyone's
hard work to remain laser-focused on meeting and exceeding all
standards, effectively setting an example for the rest of the National
Guard to follow."
A. A. "Cotton" Puryear is the State Public Affairs Officer,
Virginia National Guard.
Virginia National Guard
from page 11
BOOK ANNOUNCEMENT—
AVAILABLE NOW
August Wallmeyer brings his
unique perspectives on public
policy issues in Virginia as a
former radio and television
news reporter, government
speechwriter and energy
lobbyist to bear on three
'rural, poor and largely
unknown' areas of Virginia:
Southwest, Southside
and the
Eastern
Shore.
The Extremes
of Virginia
By
August Wallmeyer
Published by
Dementi Milestone Publishing
ISBN: 978-0-9969157-9-3
Soft cover (5 1/2 x 8 1/2)
112 pages
•
Retail price $15.00
Ebooks available ~
To order, please visit
www.DementiBooks.com
or contact the
author at
extremesofvirginia@gmail.com
In Service
to
Our
Country
Virginia Officials
and their
Military Service
In Service
to
Our Country
A brief summary of the military service
rendered by your public servants. You are invited you to take a
moment to recognize them, and perhaps most importantly, to
remember all those who have worn the uniform of our country.
Virginia Officials and their Military Service
Purchase Here:
www.wordsprint.com/vcc-publication-orders.html
V