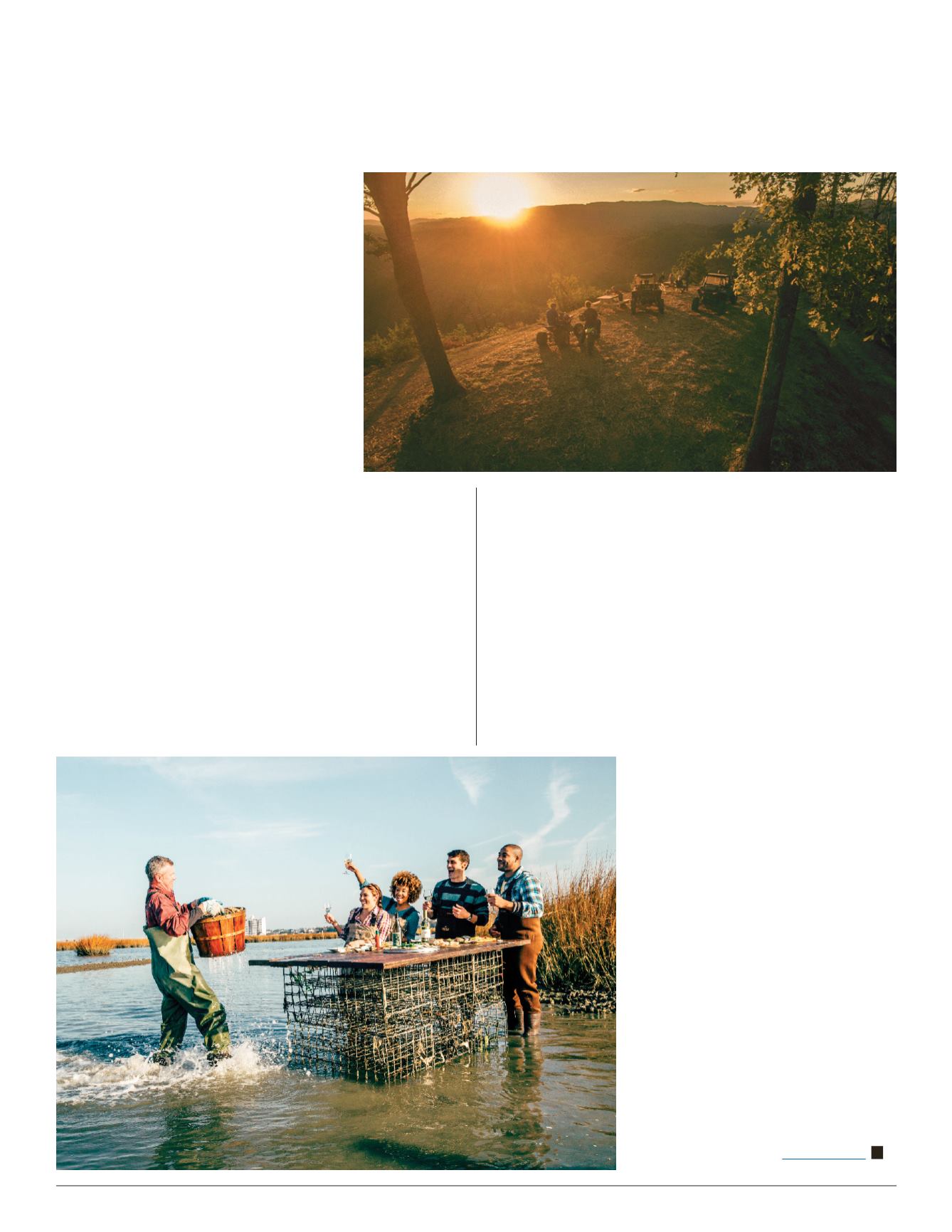 V
irginia
C
apitol
C
onnections
, W
inter
2017
13
Since July 2005, Virginia Tourism Corpora­
tion's Partnership Marketing Development Team
has worked closely with communities throughout
Virginia to unite small businesses, attractions,
corporations, associations and agencies. Through
marketing, education, and product development,
the Development Team has successfully
implemented a number of projects that have
boosted tourism in their respective regions.
At the foundation of the development program
is assisting localities with the development of
strategic tourism plans which help to guide
economic growth and enhance the quality of life
of those localities and citizens.
A great example of a project facilitated by
the Development Team from concept to fruition
is the Southwest Regional Recreation Authority,
also known as Spearhead Trails. Spearhead
Trails currently has four multiuse/OHV trails the
communities of St. Paul, Pocahontas, Pennington Gap, and Grundy
with additional trails opening in the near future. Since Spearhead
Trails opened in 2013, there has been major investment in trailhead
communities, such as $10.5 million in private investments in St. Paul,
including the anticipated Western Front hotel which is scheduled to
open in 2017. The Town of Pocahontas has seen more than $2 million
in private investment since October 2014. Since May 2015, there has
been more than $1 million in private investment in Buchanan County.
Pennington Gap's meals tax revenues increased by $7,000 more than
their all-time high shortly after a trail opened in their community.
The Southwest Virginia region as a whole has seen a 53% increase in
tourism expenditures since 2004.
Other examples of regional initiatives facilitated or supported by
the Development Team include the Virginia Oyster Trail, Back of the
Dragon, the Tobacco Heritage Trail, and many others.
VTC's development team efforts also include entrepreneur and
Virginia Tourism Corporation's Development Team
Facilitating Tourism Business and Product Development
across the Commonwealth
small business development support from workshops and training to
one-on-one counseling with businesses all across the Commonwealth.
The "Entrepreneur Express: Moving Your Business Forward"
workshop program, started in late 2006 as a way to take business
resources to rural communities, rather than forcing entrepreneurs
to travel great distances to find the assistance they needed. This
training event is held in economically challenged communities and
covers business planning basics, marketing, financing and other small
business assistance resources.
The training event is in partnership with various other state
agencies, including the Small Business Development Centers of
Virginia, all under the leadership of Virginia's Department of Small
Business and Supplier Diversity. Since its inception, more than
150 Entrepreneur Express workshops serving more than 4,410
entrepreneurs were conducted and the program continues to provide
VTC with a list of potential tourism entrepreneurs.
"VTC's dedication to small businesses
has been impeccable in our success in such
a short time," says Terri Anne Funk, business
developer of Clinch River Adventures
in St. Paul, Virginia. "The organization
provided us with ample resources to aid in
our success. Any programs that can help our
local economy and educate businesses of
Southwest Virginia's on how to prosper is an
asset to Virginia's future."
VTC's development staff focuses
on areas and partnerships throughout the
Commonwealth that have great potential
for tourism growth, with a special focus on
business development and job creation.
"We're most proud of the partnerships
we've been able to form with local, state,
and federal agencies to provide assistance
to entrepreneurs, businesses, and localities,"
says Rita McClenny, president and CEO of
Virginia Tourism Corporation. "When they
succeed, Virginia succeeds."
For more information on Virginia
TourismCorporation's PartnershipMarketing
Development Team, visit
www.vatc.org
.
Spearhead Trails is attracting
adventure seeking visitors to
the Commonwealth.
The Virginia Oyster Trail is showcasing
the East Coast Oyster Capital to visitors.
V