If you like Virginia news,
you're going to like Virginia Capitol Connections Quarterly Magazine (VCCQM).
VCCQM is a magazine like no other. We're all things Virginia. We're all things newsworthy. And we're all things political—but in a balanced, non-partisan presentation. What's the point? That we always offer a counterpoint! Get stories about newsmakers from the top (including the governor, lieutenant governor and attorney general) all the way down to the unsung heroes who make our Commonwealth click. Virginia is a great state, and offers a great magazine, both in print and online. If you want to know what's happening in Virginia, if you want to know what people are thinking in Virginia, if you want to understand your state government and how it works, if you want the insider's view of the past and present in our great state, then you'll be a regular reader of VCCQM.
Who was dubbed the "high tech governor"? You found that in VCCQM. Who were the first women in Virginia politics? You found that in VCCQM. What is Virginia doing for small businesses? You found that in VCCQM. Which election smashed the car tax? You found that in VCCQM. Which candidate raised money by allowing contributors to drive a racecar? You found that in VCCQM. What ideas did a prison inmate have for prison reform? You found that in VCCQM. Which Congressional Campaign was called a "new low" because of its television advertising? You found that in VCCQM.
Get the news you need. Get the news you want. Get it fresh. Get it balanced. Get it right. Get it in VCCQM.
Current Issue
It's a newsworthy time to be a citizen of the Commonwealth! Enjoy the Winter issue of Virginia Capitol Connections Quarterly Magazine as we cover the issues of the day, big and small.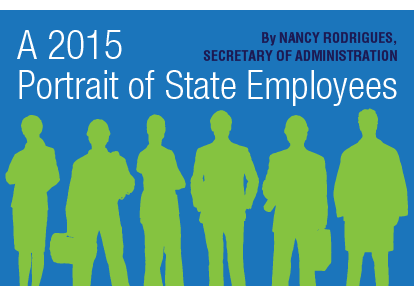 Keeping the engine of Virginia state government operating is no small task. Yet 125,000 state employees somehow manage to maintain this bureaucracy moving the wheels forward with efficiency, dedication and accountability on a day-to-day basis. Because of their efforts, state government has functioned smoothly both in difficult financial times and during the worst public emergencies.
In my travels across the Commonwealth, I have been privileged to see firsthand our employees' commitment to excellence despite shrinking resources. Governor McAuliffe and I recognize the importance of making Virginia state government a world-class place to work, and we are committed to doing everything within our power to attract, retain and support the hard working men and women who serve our great state. Read more here…
QM Bonus Article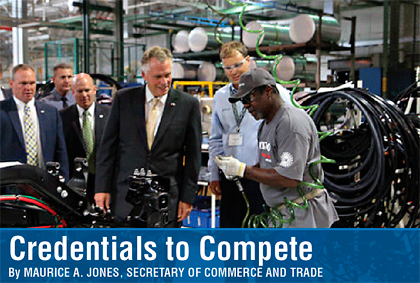 In less than a decade, Virginia will need to replace over 930,000 retiring workers and fill another 500,000 new jobs. About 50-65% of those opportunities will be specialized, skilled, and technical jobs. These are jobs that require competencies usually acquired through post secondary education - they are accessible with the right industry certifications, licenses, apprentice credentials or postsecondary level occupational certificates. Private sector employers are counting on Virginia's publicly funded workforce system to play a significant role in eliminating current and future "skills gaps" between industry demand for workers with competencies to fill these jobs, and the supply of workers with the right competencies and credentials to compete for these jobs.