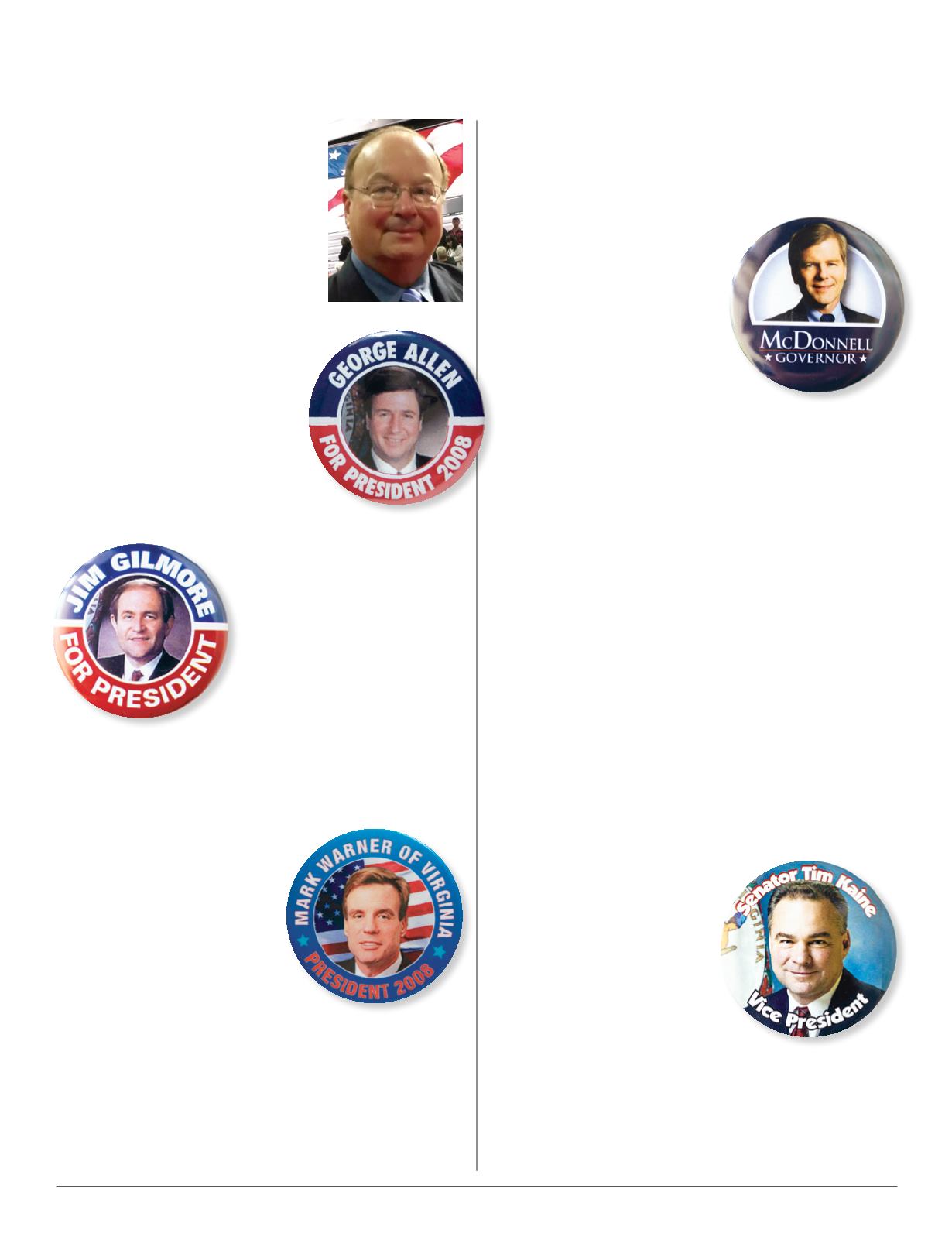 V
irginia
C
apitol
C
onnections
, S
ummer
2017
6
Back in the 2010 Summer Issue of
Virginia Capitol Connections,
I wrote
"Recent Virginia Governors-Presidential
Timber?" The time is ripe as an apple for an
update. Virginians did not get to hear "Hail
to the Chief". Let's take a look how those
seven years fared for our Virginia governors
and look ahead to their future political
endeavors.
George Allen
When U.S. Senator Jim Webb decided
not to run for re-election in 2012, Allen decided
to run for his old seat. He easily won the GOP
nomination with 65% of the vote against
Jamie Radtke (23%), Bob Marshall (7%),
and E. W. Jackson (5%). In November,
Democrat Tim Kaine defeated him with
52.86%-46.96% of the vote.
Allen continues to be a Reagan
Ranch Presidential Scholar and constantly
campaigns for GOP candidates throughout
the Commonwealth.
Jim Gilmore
Having run for president for his second
try in 2016 and being eliminated again
early in the delegate nomination process,
he anticipated a Clinton-Kaine victory
in 2016 and was ready to run for the
U. S. Senate in a Special Election
contest. But the Trump-Pence ticket
won and Gilmore had to change his
plans.
This year, he fell short by 733 votes
to be re-elected to the National Rifle
Association (NRA) Board of Directors.
Gilmore is President and CEO of the American Opportunity
Foundation that emphasizes conservative solutions that promises
real prosperity, national security, infrastructure transportation
projects, and traditional values. He is currently being considered for
a diplomatic position in the Trump Administration.
Mark Warner
In 2014, Democrat Mark Warner
won re-election to the U. S. Senate in
a lackluster campaign with 49.14%
of the vote against Republican Ed
Gillespie (48.33%) and Robert
Sarvis (2.43%).
Warner's perceived weakness
was a failure on his part to include
more of President Obama's voters who
re-elected him in 2012, especially in the
NOVA suburbs, where increased population growth has pushed the
Commonwealth into a purple battleground.
He has emerged as one of the Senate's more-moderate Democrats.
He frequently voted against his party's leadership including support
for the controversial Keystone XL pipeline. During a 2014 party vote
for minority leader, he cast a ballot against Majority Leader Sen.
Harry Reid. Warner's leadership interests concern military affairs,
intelligence and technology legislation.
Last year, he told The Wall Street Journal that his presidential
Highest Aspirations:
Virginians Hear
Hail to the Chief
Again
By Michael E. Belefski
window is probably shut. But, as vice chairman of the U. S. Senate
Intelligence Committee, he currently holds a national spotlight to
investigate and obtain credible answers on Russia's influence over
our 2016 presidential election which he said was taking up 100% of
his time.
Bob Mc Donnell
We left that summer talking about
Former Governor Bob McDonnell's
Confederate history, gay rights and
voting felon controversies. A popular
governor with a 55%-32% approval
to disapproval rating at the end of his
term, he was known for being a hard-
working executive who advocated job
creation and funding for transportation and
infrastructure improvements.
In 2012, he was being considered asVEEP on the GOP ticket and
extensively toured the country on behalf of the Romney-Ryan ticket.
When he left office, he and his wife, Maureen, were indicted on
honest services fraud and the Federal Hobbs Act extortion charges
related to their acceptance of more than $177,000 in loans, gifts,
and benefits from Star Scientific CEO Jonnie Williams while in the
governor's office. The jury convicted Governor McDonnell.
McDonnell became the first Virginia governor to be indicted or
convicted of a felony. He was sentenced in 2015 to a two year prison
term and additional supervised release and was free on bond during
an appeals process.
In 2016, The U. S. Supreme Court unanimously vacated his
conviction and remanded the case back to a lower court. The U. S.
Justice Department later announced that they would not prosecute the
case again and moved to dismiss the charges.
Today, he is a distinguished professor at Regent University's
Robertson School of Government and will assist establishing
the Governor's Center for Federalism and Civility. He started a
consulting business, began teaching at the Regent University School
of Law, rejoined his law firm, and works as a consultant for business
development and real estate projects.
At a recent speech at Virginia's American Legion Boys State,
he joked that he may ask people to help him pay his legal bills that
amount to more than $10 million, although, in a recent e-mail from The
Restoration Fund, he has a staggering $27 million to pay in legal bills.
Tim Kaine
Kaine came closest in a century in
Virginia's quest for one of the top spots
on the national political scene.
He was just leaving the governor's
office in 2010 and was halfway
through his term as Chair of the
Democratic National Committee. He
beat George Allen in his quest of a
U. S. Senate seat in 2012.
Recognizing that Kaine was born in
Minnesota, raised in Kansas, University
of Missouri graduate, Richmond councilman
and mayor, Lieutenant Governor, Governor, Roman Catholic, fluent
in Spanish and an ability to give speeches for hours without notes,
Hillary Clinton announced on July 22, 2016 that she selected him
to be her vice presidential running mate and was nominated at the
Democratic National Convention in Philadelphia.
The Clinton-Kaine ticket lost in the Electoral College, but the
Commonwealth was the only southern state won by the Democratic