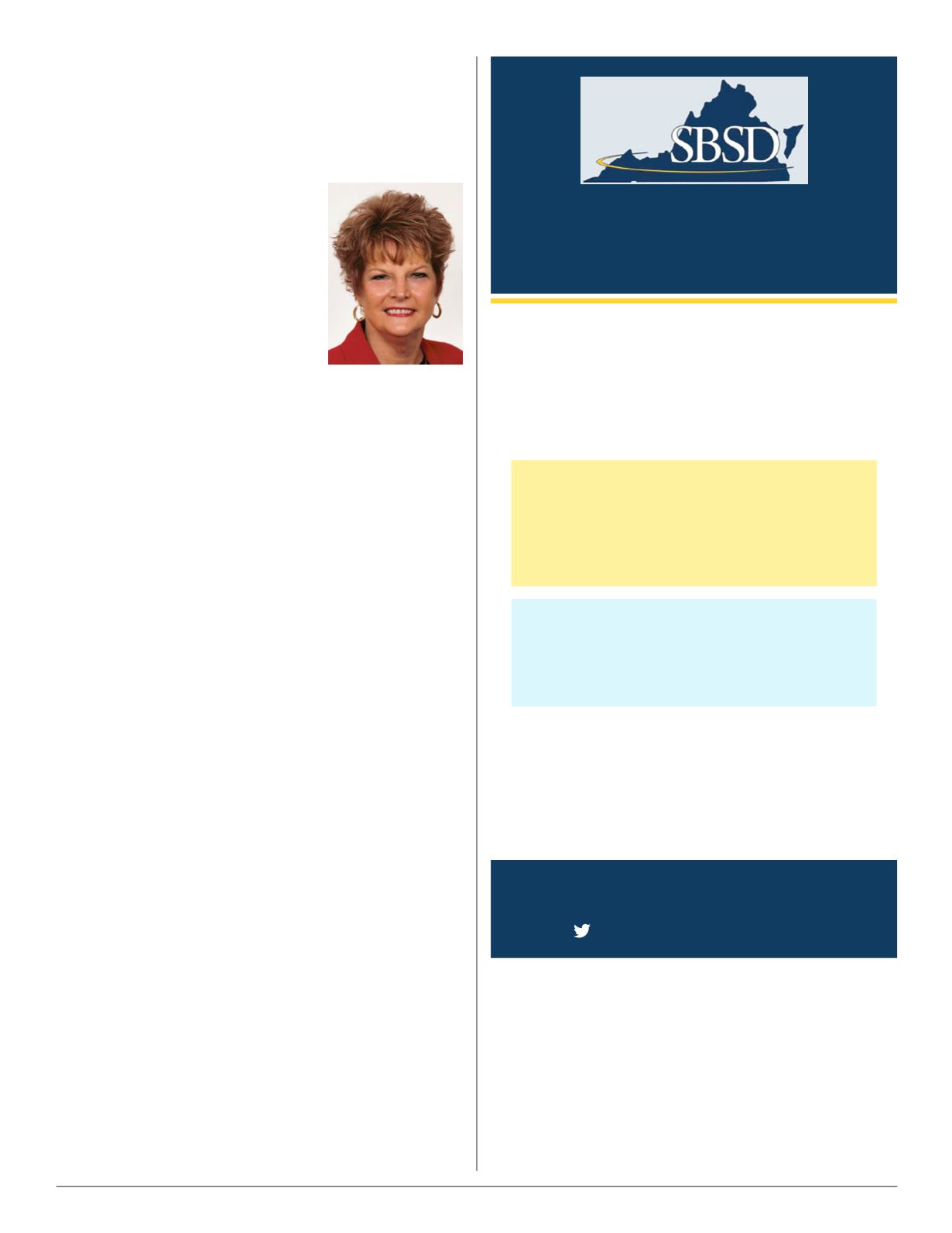 V
irginia
C
apitol
C
onnections
, S
ummer
2017
10
Denbigh Aviation
Academy Files Flight
Plan for Future Careers
By Brenda Long
Denbigh Aviation Academy and
Newport News Public Schools are
addressing a critical need by preparing a
competent and qualified workforce for
the aviation industry. Dr. Aaron Smith,
director of the Denbigh Aviation Academy,
is passionate about the program and the
opportunities students have for future
careers. Dr. Smith shared the information
below about Denbigh Aviation Academy.
Airports across the globe have a lot
in common— the hustle of passengers,
planes, helicopters, and private jets coming and going. These
economic ventures can stabilize or improve a local economy. All
airports have a vital element in common; they rely on competent
and qualified employees to keep passengers moving through the
terminals and across the world. In Virginia alone, there are 67
airports working to keep people flying safely and maintaining
rigorous safety standards.
The aviation and aerospace industries are already scrambling to
find competent and qualified workers. It is estimated that shortages
of pilots and mechanics already exceed over a half million
employees. Understanding this scenario, Newport News Public
Schools and the Denbigh High Aviation Academy are working
to prepare students for the high-paying, high-demand jobs in the
aviation industry. Located in the old passenger terminal at the
Newport News-Williamsburg International Airport, the Aviation
Academy was created in 1995 to encourage students to learn more
about the aviation profession and to continue their pursuit of related
careers.
Starting as an Army ROTC program, the Aviation Academy
evolved into an award-winning STEM program. Students have the
best of both worlds at the Aviation Academy. While at the airport
location, students enjoy the hands-on approach and real-life work
integrated into academic and elective classes. Meanwhile, students
also have the opportunity to be a part of a high school and participate
in school activities, sports, and student organizations. Today, nearly
350 students are enrolled in this exciting program.
Academy students can select one of four program areas:
flight operations, aviation technology, aerospace engineering, and
aviation security and safety. During flight operations, students first
learn ground piloting in the two year courses. Upon completion of
these classes, students are eligible to earn their Federal Aviation
Administration Ground Certification, which is the first step in
acquiring their pilot's license. In their junior and senior years, they
take air traffic control and airport operations management.
The aviation technology concentration prepares students for
careers in mechanical engineering. During their junior and senior year,
students take courses in aviation maintenance technology, which is the
foundation for the Airframe and Powerplant industry certifications.
In aerospace engineering and public safety, students take courses
in digital electronics, and engineering design and aviation security
and safety. Key elements of the course include Transportation
Security Administration (TSA), aircraft accidents, and terror-
related issues at the airport and on planes.
In keeping with the program's commitment to excellence,
partnerships have been formed with the Society of Manufacturers
Engineering Education Foundation, Arconic (Alcoa-Howmet)
Foundation, Huntington Ingalls, National Aeronautics Space
Administration, Newport News Williamsburg International Airport,
HELPING
YOUR BUSINESS SUCCEED
F
or most small businesses, opportunities and capital funding
are difficult to access. The Virginia Department of Small
Business and Supplier Diversity assists small, women- and
minority-owned business in navigating Virginia's procure-
ment process. Our Commonwealth wants to help you
succeed. Virginia Governor Terry McAuliffe's Executive Order
No. 20 calls for increased participation by small businesses in
the state procurement process.
FIND OUT WHAT SBSD CAN DO FOR YOU.
CALL (804) 786-6585
Visit us at
www.sbsd.virginia.gov
Connect with us on Twitter@VA_DSBSD
A Micro Business is categorized by its SWaM certifica-
tion, 25 or fewer employees and earnings of no more
than $3 million in average annual revenue over the
most recent three-year period.
7,031
APPROVED MICRO
BUSINESSES IN VIRGINIA
7
serve Virginians including locations in:
Abingdon, Fairfax, Hampton, Lynchburg,
Richmond, Virginia Beach and Petersburg.
AGENCY OFFICES AROUND
THE COMMONWEALTH
• Small Business Summits
• Transportation Workshops
• One-on-One Counseling
• Procurement Technical
Assistance
• Procurement Matchmaking
• Selling to State Resources
• Construction Qualifications
• Entrepreneur Express Seminars
• Growing Your Sales Seminars
• Small Business Summits
SERVICES PROVIDED TO SMALL BUSINESSES
www.sbsd.virginia.gov
| (804) 786-6585
Liberty University, ViGyan, Ft. Eustis, Langley Air Force Base and
many others. These partnerships allow the Aviation Academy to
keep up with trends and provide students with valuable insight on
the skills needed and job opportunities available. From internships,
guest speakers, and dialogues with astronauts onboard the
International Space Station, students receive priceless experiences
that not only enrich their resumes, but hooks them into the profession
as a vested member.
The program also focuses on two other critical components:
workplace readiness skills and work-based learning experiences.
For example, students utilize the wind tunnel and learn how to fly an
Continued on next page