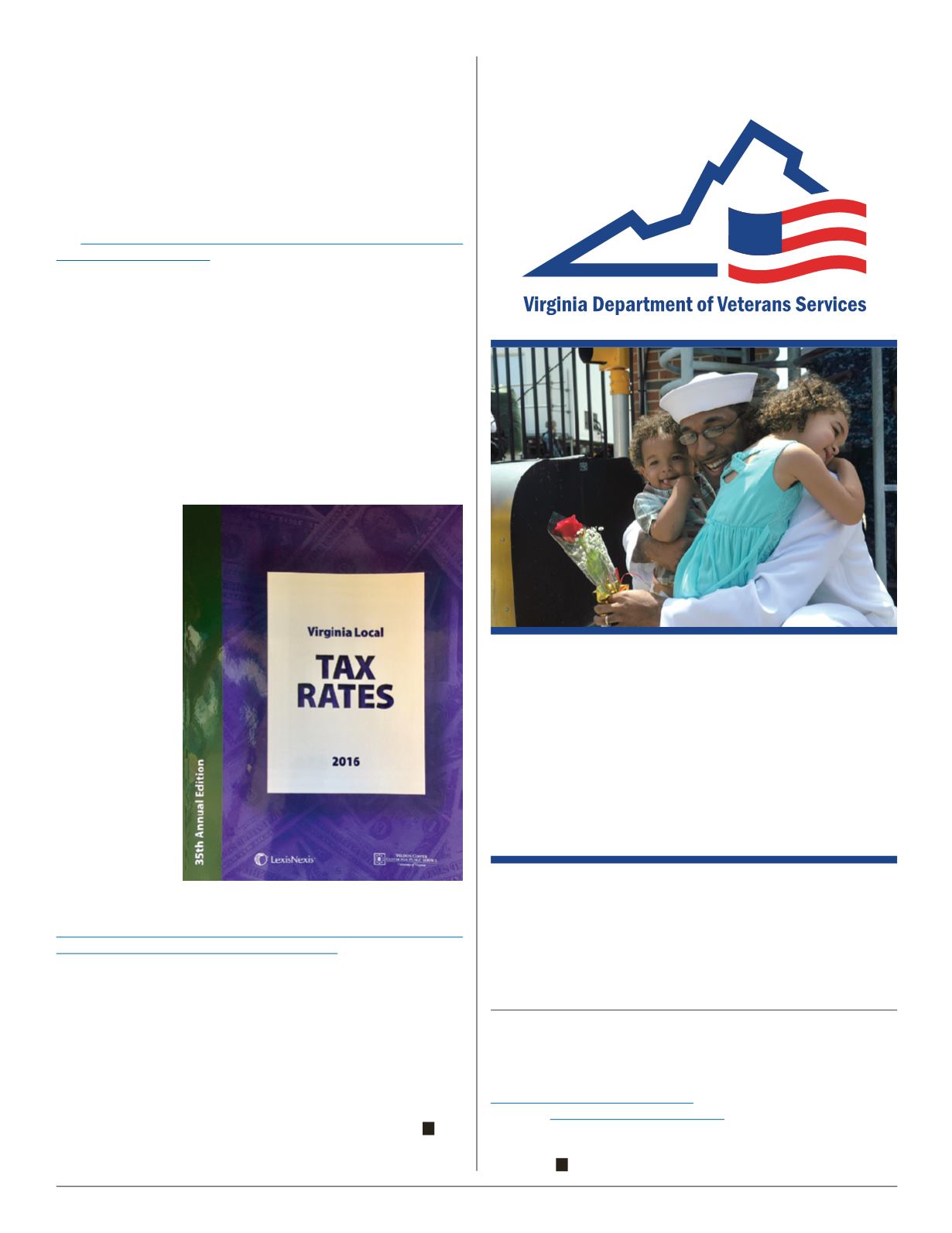 V
irginia
C
apitol
C
onnections
, S
ummer
2017
29
UVA Today
features publication
of local tax rates
UVA Today is featuring the publication "Virginia Local Tax
Rates: 2016," 35th Annual Edition, by UVA's Cooper Center for
Public Service, which is in print and is available through Lexis-
Nexis.
https://news.virginia.edu/content/who-pays-most-breakdown-
local-tax-rates-virginia-0
The 375-page book features tax information for all 38 Virginia
cities, all 95 counties and for 137 of the state's 192 incorporated
towns. The soft-cover book was compiled by Stephen C. Kulp, re-
search specialist with the Center for Economic and Policy Studies.
Many Virginia localities impose different types of taxes for lo-
cal services and all have differing tax rates. For example, 29 cities
and two counties impose tobacco taxes and net a total of more than
$70 million from such taxes, which amounts to less than 0.5 per-
cent of all local revenue. Tax rates on cigarettes range from a high
of $1.15 per pack in Alexandria to 55 cents in Charlottesville to 10
cents a pack in Petersburg.
The Virginia Local Tax Rates book references all the tax cat-
egories permitted in the Code of Virginia. Readers can find data on
taxes for real property, merchants' capital, tangible personal prop-
erty, utilities, mo-
tor vehicle li-
censes, business
licenses, tobacco,
meals, lodging and
more.
The only com-
prehensive view
of local taxation
in Virginia is pre-
pared annually by
the Weldon Coo-
per Center for
Public Service. It
is an indispens-
able resource for
anyone involved
with local govern-
ments in Virginia,
either as a tax-
payer, elected offi-
cial, administrator,
business leader, or
researcher.
The
printed
book and eBook can be pre-ordered online at the LexisNexis Store:
https://store.lexisnexis.com/categories/product/virginia-tax-rates-
2016-35th-annual-edition-skuusSku22860439
.
The Cooper Center is a research and training organization
focused on the Commonwealth of Virginia. The Center provides
objective information, data, applied research, technical assistance,
and practical training to state and local officials, community lead-
ers, and members of the general public.
The Cooper Center's 60-member staff includes experts in pub-
lic management, demography, economics and public finance, po-
litical science, leadership and organizational development, work-
force issues and survey research.
Contact: Stephen C. Kulp, research specialist with the
Cooper's for Economic and Policy Studies, (434) 982-5638
Sarah Alderson is an award-winning freelance writer who also
works in the Senate broadcast control room during sessions and
the Capitol Studio throughout the year. She can be reached at
aldersonproductions@gmail.com
and her new blog launches in
March at
thesarahfiles.wordpress.com
.
This a shortened version of an article that originally appeared in
the Winter 2013 issue of
Virginia Capitol Connections Quarterly
Magazine
.
Continued from previous page
Transition
•
Education
Employment
•
Benefits
Veteran & Family Support
Care Centers
•
Cemeteries
Virginia War Memorial
www.dvs.virginia.gov
(804) 786-0286
V
V