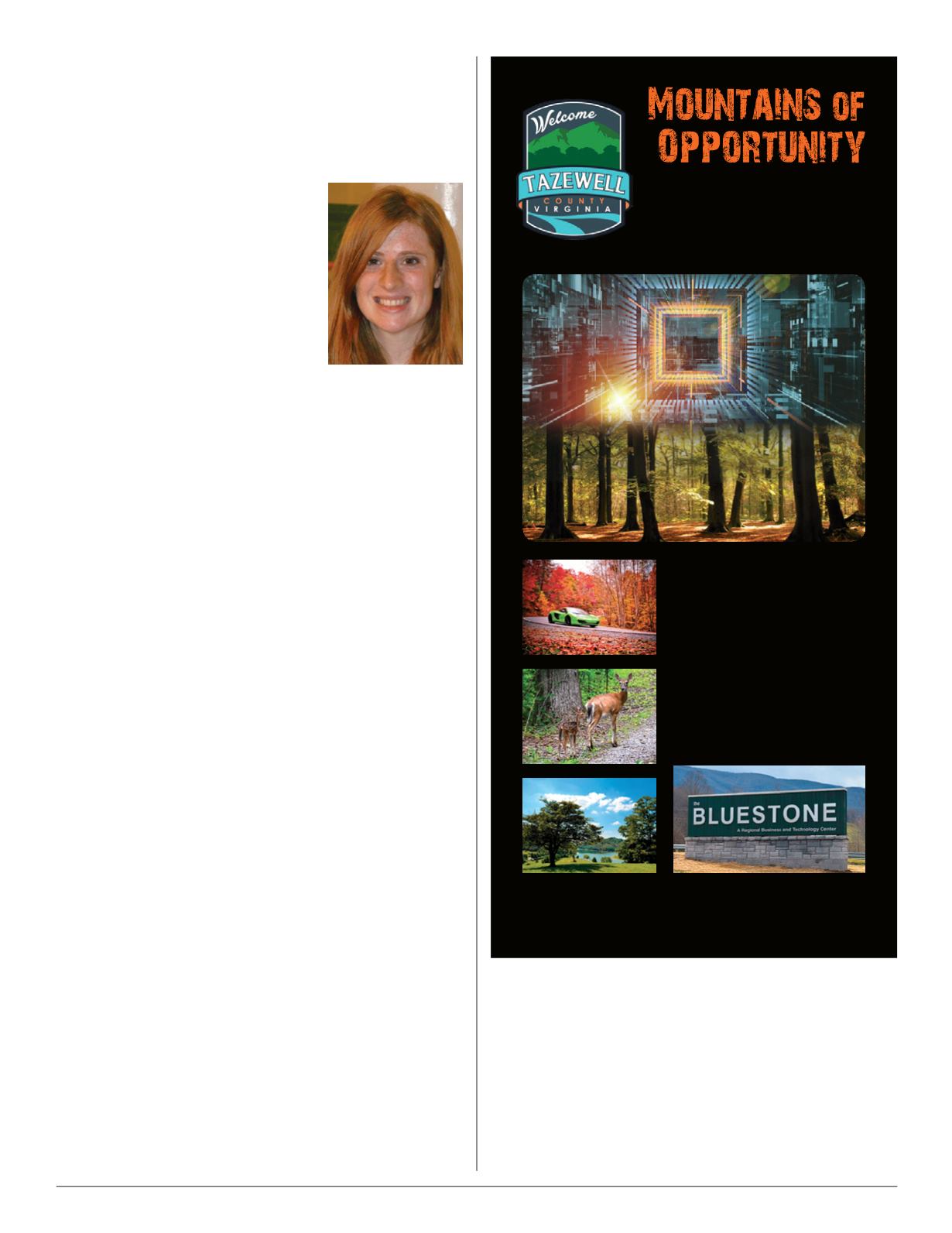 V
irginia
C
apitol
C
onnections
, S
ummer
2017
22
Tazewell County Makes
Strides to Improve
Healthcare Outcomes
By Lydia Freeman
In Tazewell County, poor healthcare
outcomes have led to action from the
Board of Supervisors.
"Several years ago Tazewell County
ranked 131 out of 133 which was very
poor," said Eric Young, Tazewell County
Attorney. "Since then, the Board of
Supervisors and our industrial development
authority have taken opportunities to try
and address that problem."
The Virginia County Health Rankings
lists counties by their health outcomes.
Counties ranked toward the top have residents with better length
and quality of life. Counties listed lower are experiencing the
opposite.
According to the County Health Rankings, Tazewell County
has improved health outcomes: the county currently ranks at 119,
in comparison to the 2015 ranking of 131. Much of this rise can be
credited to the Tazewell County Board of Supervisors' recognition
of the poor healthcare outcomes, and the work that has been done
to expand residents' access to healthcare.
Four major initiatives have been employed to cause this
dramatic increase in residents health: utilizing the Virginia
Coalfield and Energy Coalition, the creation of a Veterans Affairs
clinic, recruiting Trina Health to work with diabetic patients, and
partnering with Virginia Tech faculty to research causes of cancer
in Tazewell County.
One avenue that the Board has taken to provide residents with
quality healthcare is a partnership with the VCEDA (Virginia
Coalfield Economic Development Authority). VCEDA is a regional
economic development organization created by Virginia's General
Assembly in 1988 to enhance and diversify the economic base.
"If we have employees that are high wage and highly trained,
it benefits our economy," explained Eric Young.
The Board has also made use of capital resources to promote
new healthcare resources. Tazewell County had two buildings that
were vacated: a former health department building in Tazewell and
a school building in Falls Mills.
"We took the old healthcare building and sold it to Southwest
Virginia Community Health Systems at a discount like a grant,"
explained Young. "They provide healthcare to underinsured and
uninsured on a sliding scale based on income. We feel like that is a
really good project."
The school was donated to the Appalachian Agency for Senior
Citizens (AASC) in Cedar Bluff in order to build an adult daycare
center. The new center, when complete, will provide adult daycare
services, nutrition programs for the community, care coordination
and the services available through AASC's Program for All-
Inclusive Care for the Elderly (PACE).
"For example, if your dad can't take care of himself and might
wander off and get lost, you can take him there while you go to
work," explained Young. "This is fantastic for a lot of people.
They'll check his blood pressure and temperature and make sure
he takes his medicine or ensure. That's a very big health benefit
to the elderly."
This June, Governor Terry McAuliffe recommended more
than $500,000 be given in an Appalachian Regional Commission
(ARC) grant for this daycare center.
Other new health facilities include the Trina Health Center
in Pounding Mill, which provides an innovative treatment for
1
www.YesTazewellCounty.org
www.TheBluestone.org
www.VisitTazewellCounty.org
Tazewell County is working hard
to help diversity and attract hi-
tech companies to our region.
We are now, more than ever,
"Open for Business."
• Aggressive Business
Assistance
• Pro-Business Environment
• Enterprise Zone
• Workforce Training
• Competitive Utility Rates
• Abundant Natural Resources
• Affordable Land
• Safe and Economical Place
to Live
• Excellent Quality of Life
Where
T
echnology
exists
with
Nature
diabetes, and the Community Based Outreach Clinic for Veterans
in Tazewell.
"We worked in 2016 with Carilion and the State Department of
Veterans Affairs to establish a VA Clinic," said Young. "We have
a very high population of veterans, and previously they'd have to
drive to Salem or Beckley. Now they can get treatment here. This
is huge boost."
Another concern that the Board worked to address were cancer
rates in Tazewell County.
Susan Marmagas, faculty at Virginia Tech, worked closely on
this research. She said that while it was difficult to use the data
on cancer rates to make strong conclusions, they did determine