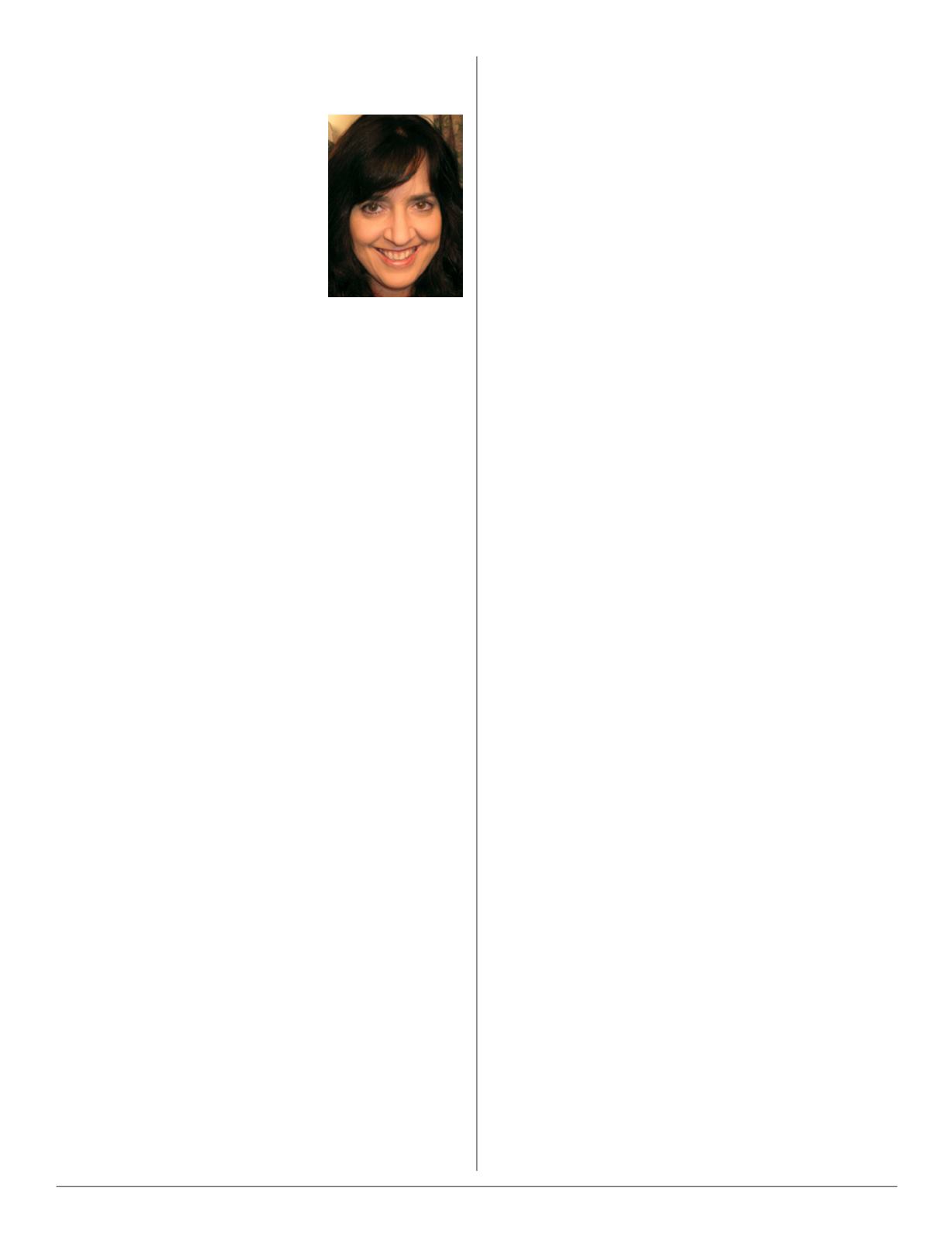 V
irginia
C
apitol
C
onnections
, S
ummer
2017
13
If the walls of the now defunct Virginia
General Assembly building could talk,
what kind of tales would they tell? I began
wondering about this as the structure
was being emptied out and readied for
demolition. I knew there were lots of
interesting things that happened there over
the years and plenty of secrets that would
probably never be told.You know, the "What
happens in the GAB, stays in the GAB."
sort of thing. But I particularly wondered if
there were any ghost stories that could be
shared. It had suddenly occurred to me that I had worked there over
10 years and never actually heard of any.
There are all kinds of reports of hauntings around the Capitol area,
and that's to be expected on such an historic site. Surely, I thought,
there must be some that involved the GAB. I must have missed them
somewhere along the way, but somebody else certainly knows.
That curiosity sent me on a mission to ask as many people as
I could who have worked around the Capitol in various capacities
what they might have heard over the years. I contacted a wide variety
of people from senators and delegates to Capitol Police and long-
time legislative staff. Even those who had worked in the building
the longest, such as Delegate Kenneth Plum—the longest serving
member of the House of Delegates, and Susan Schaar—Clerk of the
Senate who has worked in the clerk's office for over 40 years, had not
heard of any ghost stories there.
Most people connected with Capitol Square tell me they have
heard of mysterious sightings and sounds involving other buildings.
Stories abound around the Capitol, the Governor's Mansion, the
Supreme Court Building, the Patrick Henry Building, Old City Hall,
and on the grounds itself. In fact, one former member of the Capitol
Police, Paul Hope, wrote a book about some of his experiences called
"Policing the Paranormal: The Haunting of Virginia's State Capitol
Complex." However, I have yet to find any of these incidents attached
to the GAB.
On the other hand, most people who worked in the General
Assembly Building knew it was a "sick building." "Sick Building
Syndrome" is a term used to describe situations in which
building occupants experience acute health and comfort effects
that appear to be linked to time spent in a building, but no specific
illness or cause can be identified. There was plenty of asbestos, mold,
plumbing and HVAC problems creating various health hazards.
One former staff member I talked to had to quit her job because of
severe allergies and other reactions to materials inside. She got so she
couldn't even walk into the GAB.
There were several efforts over the years to replace the building,
but budget and politics kept getting in the way. The fact that it's
finally being demolished was prompted by a publicized 2012 review
indicating that the 11-story General Assembly Building had problems
with asbestos, faulty air flow, rotting windows, a leaking roof and a
crumbling façade among other issues. It was a health hazard not only
for everyone working there, but also the public.
The Capitol Studios, where I often worked, were in the basement
of the building. There were often strange sounds emanating throughout
the office, much of which were workers in the walls above, elevators
arriving and leaving the basement, people working out on the street,
noisy vehicles going by and that kind of thing. We never thought of
them as anything paranormal.
The atmosphere was also dim and dank, and it occasionally
flooded if it rained hard enough or a large amount of snow around the
building began to melt. Dehumidifiers and fans were a regular part of
our daily studio set ups.
When I first started working there, stalactites were prominent
throughout the main studio hanging from the maze of pipes above
our heads. Occasionally, some of them would drip on us. We didn't
know what kind of substance or substances they were made of, and
in a way, we didn't want to know. A sign warning of asbestos was
posted in our office area, and strange smells emanated from the back
storage room that probably included black mold.
One of my former co-workers, Billy Lamberta, reminded me of
the strange old gym with the discarded CPR mannequins that was
down in the sub-basement below us. He said he probably took a few
years off his life wandering down there with the asbestos and mold.
I always heard how creepy it was, but never got around to having
someone take me down there, and I was never adventurous enough to
go search it out for myself.
These sorts of things could be disconcerting and maybe even a
little scary, but none of us thought of them as being otherworldly.
The press room for various print, radio and television journalists
who covered the Capitol on a regular basis was also in the basement,
and at one time it was bustling with activity during sessions.
Bob Lewis, media relations manager and former political reporter
for The Associated Press, mentioned that even during busy sessions
he heard people say the affectionately titled "dungeon" around the
bill room could be particularly spooky.
As for actual hauntings, he added, "I used to stay in that building
till the wee hours during budget conference time, and sometimes
would definitely get the creeps up on the 9th and 10th floors when
conferees had left, and I was still filing stories from my laptop. I
never saw or experienced anything like a poltergeist or spirit entity. It
was just my tired brain and active imagination."
When asked about possible ghosts, media consultant/instructor
and former reporter/anchor, Bill Oglesby, replied, "No, just some
pretty pale legislators." Columnist and feature writer for the
Richmond Times-Dispatch, Bill Lohmann, hadn't heard of any, but
decided to ask his friend and senior photographer for the Richmond
Times-Dispatch, Bob Brown. Brown reported, "Lots of skeletons in
lots of closets, but not aware of any ghosts."
Senator Jennifer McClellan speculated that ghost stories most
often abound where there have been battles, places where people
have died or where they had a strong emotional connection. The
General Assembly Building apparently didn't fit the bill for any of
those qualifications.
Even though those walls may not have talked or housed ghosts, they
did witness plenty of citizens and lobbyists arguing with lawmakers
and waging battles over bills. And there were plenty of deaths as a
result—of potential legislation. Many can claim battle scars from
fighting for or against various bills, and legislators can tell you about
the horrors of watching their bills die in committee. Dead bills don't
tell tales, make noises or walk the halls, and they're often forgotten.
Delegate Plum responded with his own theory about the lack of
hauntings, "The building was filled with asbestos. Probably killed
off or scared off the ghosts. As you may already know, the building
housed the Life of Virginia life insurance company. Maybe they took
their ghosts with them."
News Director for 88.9 WCVE Public Radio, Craig Carper, had
yet another take on why there are ghosts reported in other buildings
nearby, but not in the GAB. "I didn't want to spend any time there in
life. I'm sure no-one wants to be there in the afterlife. The Capitol and
the Mansion are much cooler."
One way or another, and for better or for worse, everything that
happened over the years in the old General Assembly Building is part
of the Commonwealth's history.
As the new General Assembly Building is constructed, Capitol
officials will be striving to incorporate some of the old materials and
architectural elements. They are particularly hoping to preserve the
historic façade that was part of what was originally a bank constructed
in 1912. It's the oldest of the four structures built through 1965 and
then combined in 1976 to house the General Assembly and various
legislative agencies.
If Those Walls Could Talk….
By Sarah Alderson
See
If These Walls Could Talk…
, continued on page 15