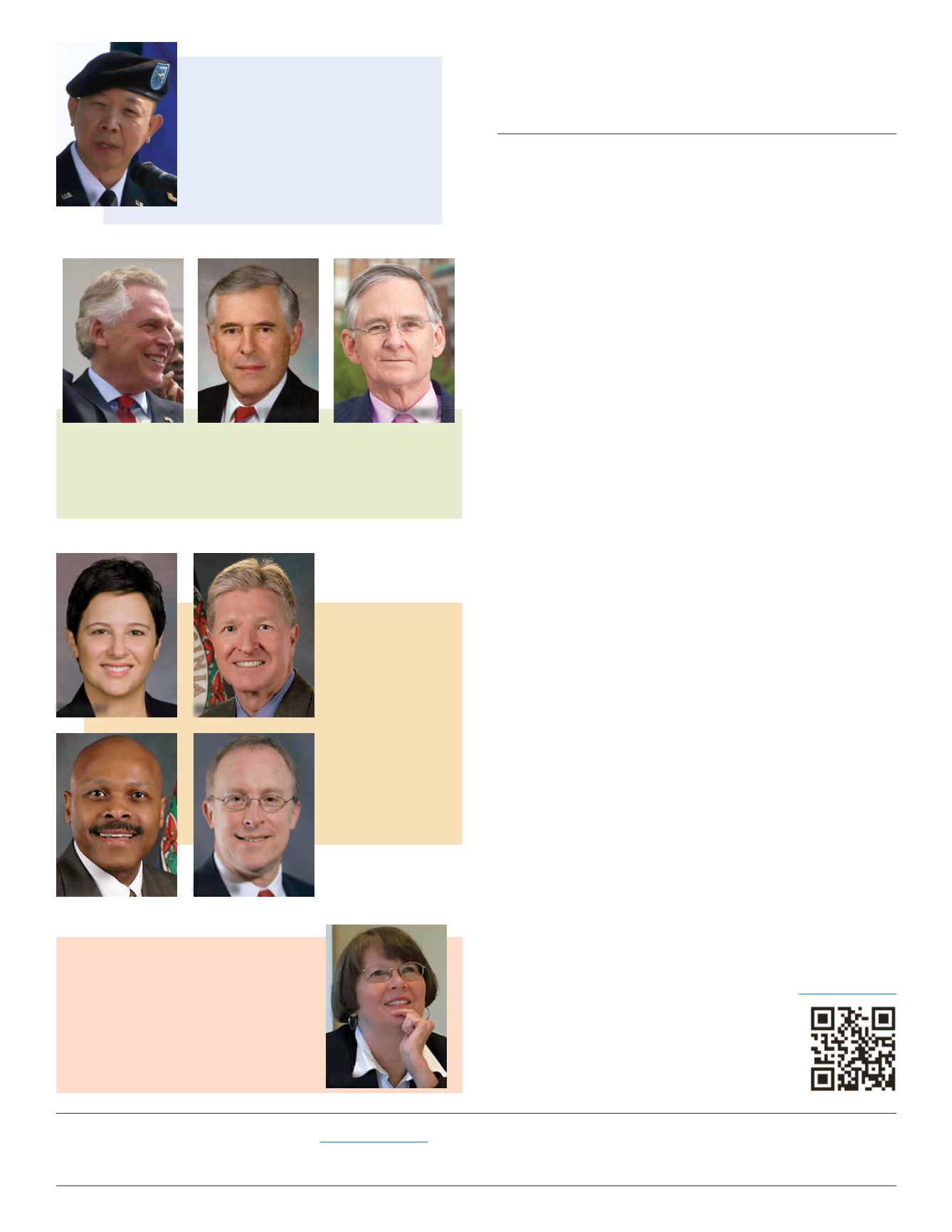 V
irginia
C
apitol
C
onnections
, S
ummer
2016
3
4
From Saigon to Brigadier General
6
Opioid Crisis Inspires Community, Health Care,
Government Collaboration
7
Restoration of Rights Facts
8
Restoration of Rights Counterpoints: Pro
9
estoration of Rights Counterpoints: Con
10
How the Virginia Housing Development Authority Helps
Grow Virginia's Economy with Affordable Housing
11
Hurricane Season Preparedness:
Resilience is Shared Responsibility
12
Business Leadership to Secure Virginia's Energy Future
13
The "Communicator of Achievement" Achieves
Impossible Dreams…
14
Reading the Tea Leaves: Do the Virginia Presidential
Primaries Offer a Clue to November's Vote?
16
The Photography of Wanda Judd
18
The Great Unsettling
20
Capital Region Caucus Revived But Will It Continue?
22
Virginia School Divisions Showcase the Governor's STEM
Academies and Governor's Health Sciences Academies
23
All Schools Need To Be Charter Schools
24
My Political Hero
25
Veterans, Have You Had Your Benefits Check Up Lately?
26
Workplace Safety Violation Penalties to Increase
27
Virginia State Parks Look Back
28
In Memoriam
Thomas G. Baker, Jr.
Warren E. Barry
Frederick H. Creekmore, Sr.
Johnny S. Joannou
John C. Miller
Otho Beverly Roller
Jackie T. Stump
30
Association and Business Directory
Summer 2016
Volume 22 Number 3
•
Editor
–Kristen Bailey-Hardy •
Summer Issue Editor
–Jesse Siebentritt •
Assistant Editor
–Hayley Allison •
Publisher
–David Bailey •
Art Director
–John Sours
School Distribution
–Kristen Bailey-Hardy •
Advertising
–
Ads@CapitolSquare.com
•
Printer
–Wordsprint •
Virginia Capitol Connections Quarterly Magazine
(ISSN 1076-4577) is published
by: Virginia Capitol Connections • 1001 East Broad Street • Suite 215 • Richmond, Virginia 23219 • (804) 643-5554 • Copyright 2016, Virginia Capitol Connections, Inc. All rights
reserved. The views expressed in the articles of
Virginia Capitol Connections Quarterly Magazine
, a non-partisan publication, are not necessarily those of the editors or publisher.
On the Cover
Governor Terry McAuliffe announces
rights restoration executive order on April 22.
Cover photo by
Michaele White
C O N T E N T S
VIRGINIA CAPITOL CONNECTIONS QUARTERLY MAGAZINE
On The Web
www.vccqm.org
Brigadier
General Flora
page 4
Communicator
page 13
Issues
Opiod
Housing
Hurricanes
Energy
pages
6, 10, 11, 12
MURRAY
JONES
MORAN
MARTIN
FLORA
ATWOOD
M
c
Auliffe
EDWARDS
NORMENT
Restoration of Rights
page 7 page 8
page 9